SKOPJE, North Macedonia — Taking precautions against becoming infected or spreading illness during the COVID-19 pandemic isn't easy for anyone, but it poses special challenges for some people with disabilities, as young health-care worker Beira Salifoska knows all too well.
"Because I have completely impaired sight, I typically touch objects in order to explore the world around me, and keep my hands out in front of me to help me navigate safely," says Salifoska, who works as a physiotherapist-masseur at the National Institute for Physical and Medical Rehabilitation in Skopje. "Suddenly, I had to get used to keeping away from people and limiting using my hands when moving around, which is really impossible for someone like me."
More than 2,500 people in North Macedonia have some kind of visual impairment, according to the National Union of People with Impaired Vision, an umbrella organization of 18 groups. No statistics are kept on the total number of people with different types of disabilities in the country, which has recently seen an abrupt rise in its number of COVID-19 cases.
"People with disabilities belong to a particularly vulnerable category that needs additional protection during this critical period, especially those who are both socially and economically disadvantaged," says Alexandra Mojsova of the Health Education and Research Association (HERA), a UNFPA partner in North Macedonia.
Many services for people with disabilities have been suspended as a result of the pandemic, and physical distancing guidelines have made it difficult for them to receive in-person support or apply necessary measures to prevent the spread of the disease.
COVID-19's impact on young people's mental health
Over the past three months, UNFPA has provided financial support for HERA to distribute a total of 110 hygiene packages for people with disabilities in areas of the country at high risk for COVID-19. UNFPA is also working with the youth network Y-PEER to carry out other activities in support of the most vulnerable groups of young people, including people with disabilities.
According to the initial results of a survey developed by UNFPA and Y-PEER, young people in North Macedonia are particularly concerned about the impact of the COVID-19 pandemic on their mental health and financial situation. The responses from 700 young people thus far indicate that their access to health services has been reduced, their civic engagement has drastically decreased, their access to comprehensive sexuality education is almost non-existent, and they have a lack of information on how to report and respond to domestic violence. Many of these problems are particularly acute for young people with disabilities.
"We received responses from young people who said that they needed health care during quarantine but did not receive it, or that they were concerned that their education would be delayed," says Kristijan Angeleski from Y-PEER. "On the positive side, most said they had good information about the risks of infection from COVID-19 and how to protect themselves."
Young people with disabilities are experiencing increased levels of stress, panic, uncertainty, anxiety and feelings of sadness and loneliness, according to social worker and psychotherapist Aleksandra Petkova. These negative emotions arise from the isolation and altered routine created by the COVID-19 pandemic, including reduced or completely interrupted social contacts, and increased feelings of fear, she says.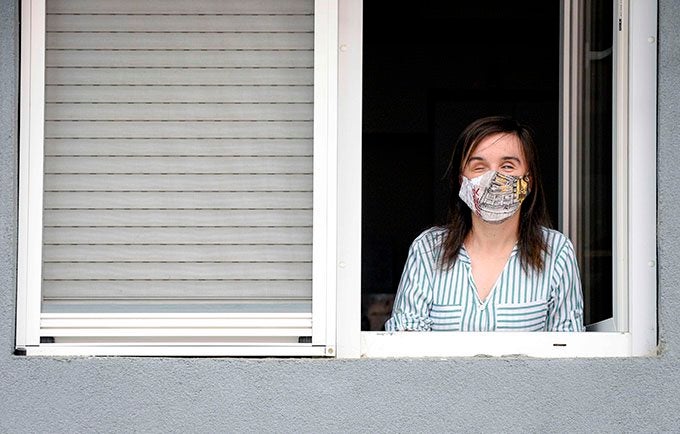 Salifoska, a physiotherapist-masseur, had to spend 14 days in isolated home quarantine after being exposed to a COVID-19 positive patient at work. Photo credit: UNFPA North Macedonia
"The COVID-19 pandemic shows there is an increased need to provide continuous psychosocial assistance, support and rehabilitation to young people with disabilities, as well as expanding the number and type of services that offer these things," says Petkova, who is also involved with KRIK, a youth organization that works with young persons with disabilities.
During the pandemic period, almost 16 per cent of young people say they have experienced some form of bullying or sexual harassment in online communication, according to Angeleski from Y-PEER. He says it is also worrying that almost 40 per cent of young people say they do not know where to report or get help in cases of domestic violence.
Making COVID-19 information accessible
"All of the activities we are planning with UNFPA for the upcoming months are aimed above all at supporting vulnerable groups of young people," says Angeleski. "We will organize online workshops on mental health and the risks of gender-based violence, and produce informational materials about COVID-19 that are accessible to young people with disabilities."
Physiotherapist Salifoska has already had up-close experience with the risks of COVID-19: one of her patients tested positive just weeks after the pandemic spread to North Macedonia.
"I can't say that I received this information calmly, I was shocked and in disbelief," she says, adding that she had to cope with great uncertainty while waiting for her own test results, which fortunately turned out to be negative. "While waiting, I had to be quarantined for 14 days, which was not at all easy for me," she says. A personal assistant hired by the Ministry of Social Affairs to help people with disabilities brought groceries to Salifoska's front door while maintaining physical distancing.
"Every time he left, I felt like crying, but I told myself, this will pass," she says. After the quarantine passed, Salifoska was again able to go out grocery shopping with the help of her assistant, Dimche, or his girlfriend, who has become a close personal friend.
"I'm a cheerful and positive person, so I will draw something good out of this and hope that this pandemic will be a big lesson for all of us," Salifoska says. "Above all, I hope we will learn the need to respect other people, to cooperate and to communicate well."
—Irena Spirkovska