Development of a protocol for sexual and reproductive health services provided by the Mobile SRH Clinics at the refugee/migrants' Transit Centers
The Ministry of Health with a support of the UNFPA CO in Skopje is working intensively on development of a protocol for the Mobile SRH Clinics for provision of SRH services for women, girls, men and boys refugees/migrants at the two transit centers, "Vinojug" , near Gevgelija (entry point) and "Tabanovce" near Kumanovo (exit point). This inclusive and participatory process, is led by the National SRH Coordinator from the Ministry of Health and involves involving the professionals from the city hospitals in Kumanovo and Gevgelija, University Clinic for Gynecology and Obstetrics, NGO H.E.R.A., UNFPA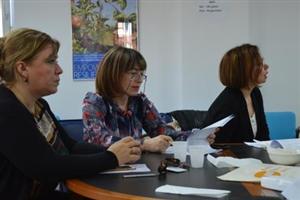 The protocol is the first of this kind in the Southeast European region that focuses on the migrant/ refugee crisis. It is aimed at standardizing the operations of the Mobile SRH Clinics in the clinics, considering the specificity of the current refugee/migrant crisis and in line with the international standards. 
This protocol is clarifies: the types of SRH services that will be provided; ; the necessary staff with qualifications needed for proper functioning of the clinic as well as division of roles and responsibilities between the field team and medical staff in the hospital ; the inventory such as necessary equipment, medications; the information flow; proper recording and reporting of services, use of medications, equipment, disposable materials; maintenance and hygiene of the clinic; issues related with sterilization of equipment; referral to other institutions, per the local circumstances and international standards.
The coordination meeting was conducted in UNFPA CO in Skopje on March 2. After the finalization of the draft protocol, the Ministry of Health will formalize the protocol and enforce its use by the responsible teams and institutions.