Skopje, 20 June 2022 - Regional Forum "The Virtual is Real: Strengthening legislative frameworks in support of Bodily Autonomy" where speakers from the Western Balkans region and beyond discussed the current situation and legal framework on cyber violence, was held on the 20 th of June, in Skopje, North Macedonia.
The Forum, organized by the UNFPA Country Offices in the region, strengthened regional partnerships through crafting consistent and effective legal measures and has raised awareness to combat digital violence and gender-based violence in general. Speakers from the Balkans and beyond, and Mr. Arthur Erken, Director at Policy and Strategy Division in UNFPA, who opened the Forum, discussed a widespread form of violation of bodily autonomy and human rights.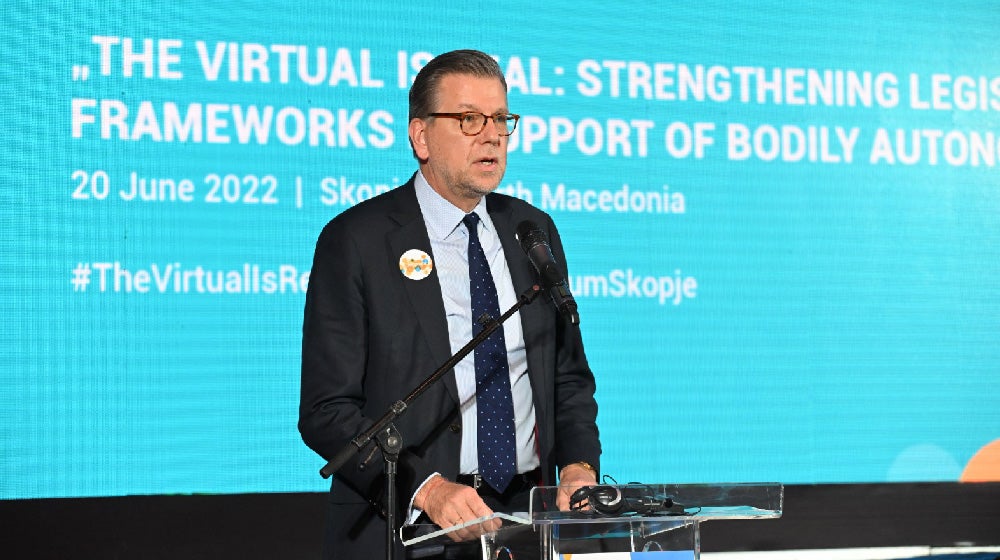 Mr. Arthur Erken, Director at Policy and Strategy Division at UNFPA addressing the Forum in Skopje. Photo: UNFPA North Macedonia
"Digital violence is violence. It affects the lives of millions of women and girls. Now's the time to join efforts to protect everyone's bodily autonomy, online or offline", said Mr. Erken in the opening words, adding that globally 85% of women report witnessing online, and 40% personally were victims of such violence.
Officials and NGO representatives from the region also addressed the Forum emphasizing that it is necessary to clearly define virtual violence in the legal frameworks and that effective legal measures and raising awareness of the fight against digital violence and gender-based violence are essential.
The event is part of the Bodyright campaign launched by the UNFPA as a global call to action to disrupt violence against women and girls in virtual spaces. Bodyright is a social movement created to hold technology companies, policymakers, and other leaders to account because they have the power to curb online abuse.
The event was broadcasted live on the UNFPA North Macedonia youtube channel on the following link:
https://www.youtube.com/watch?v=6j2sqjyspV8