ISTANBUL, 22 September 2022 – Well-designed family policies that benefit women and men are a key element of any successful response to the demographic challenges Europe is facing, speakers said at the opening of a high-level conference organized by UNFPA, the United Nations Population Fund, in Istanbul today.     
"It's time to tear down the barriers that prevent women and men to have the careers, and number of children, they want," said Florence Bauer, Director of UNFPA's Regional Office for Eastern Europe and Central Asia. 
"Family policies make it easier for women and men to fulfil their responsibilities both at home and at work. They are beneficial for working parents, companies, the economy, and society as a whole."
Across Europe, women are still widely expected to shoulder much of the unpaid care and household work. This makes it hard for women to be employed and have a family. They often still, in effect, have to choose between pursuing a career and having children. Some women never enter the workforce or drop out when they have children. In Eastern Europe, in particular, the share of women in the workforce is low, generally below 50 per cent. Those who do enter and remain in the workforce often find it difficult to start a family, if they want one, and in many cases end up with fewer children than they would have wanted, or none at all.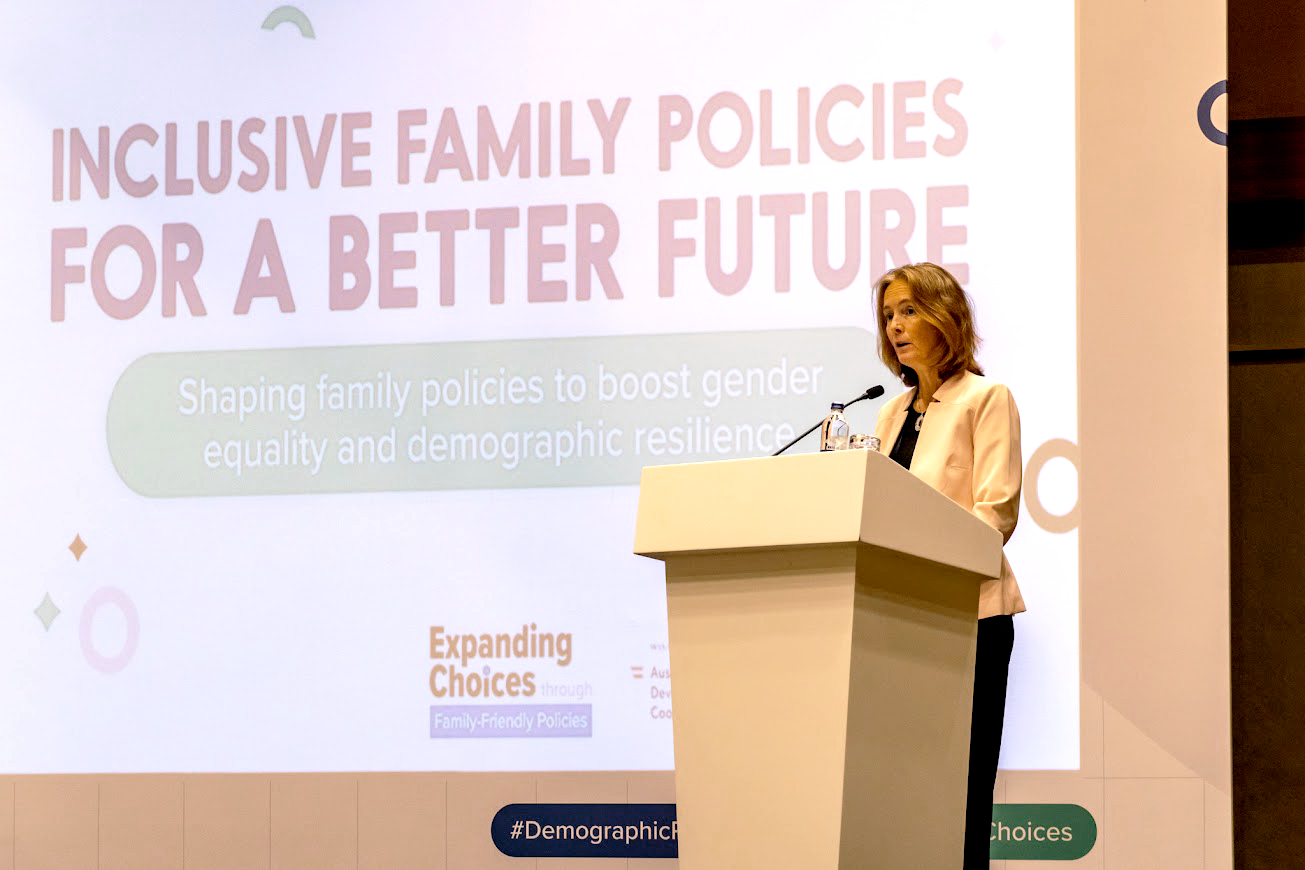 Florence Bauer - UNFPA Regional Director for Eastern Europe and Central Asia  Photo credit: UNFPA EECARO
"Family policies can help people have the number of children they want, and make it easier for women to join the workforce – both are desirable from an individual human rights perspective, and also because it helps countries mitigate the effects of demographic change," said Ms. Bauer. "But for family policies to have this effect, they must respond to the needs of women and take into account the diversity of modern families."
Both governments and the private sector have a role to play in instituting family policies. These include well-paid parental leave for women and men, care allowances, and anti-discrimination legislation protecting pregnant women, as well as flextime work arrangements for employees, dedicated spaces at the workplace for lactating mothers, and care facilities for small children.  
When introducing family policies, businesses benefit from greater staff morale and lower levels of absenteeism, turnover, and recruitment costs, all of which brings greater productivity and revenue.
Some 100 government and business leaders from across Eastern Europe and Central Asia participated in the conference, which was held under UNFPA's Expanding Choices programme, funded by the Austrian Development Agency (ADA).